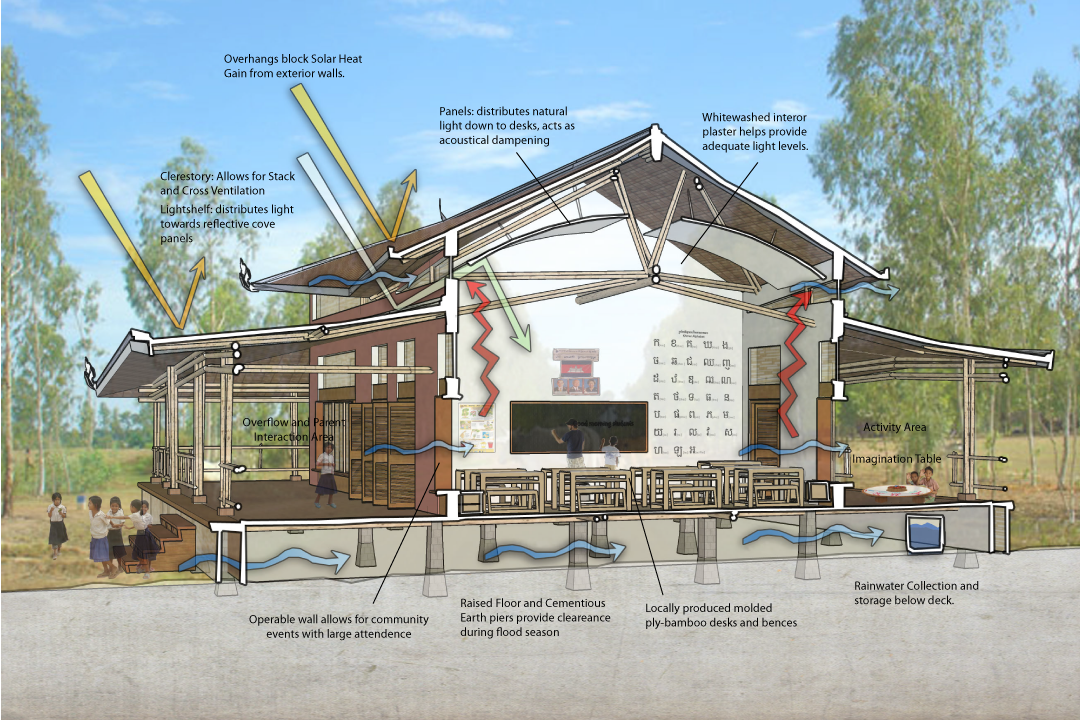 Location:
Siem Reap, Cambodia
Semi-Finalist
Architecture For Humanity's 2009 Open Architecture Challenge 
Project Team:
Michael Jones, Pagna Serey, John Singleton, Damon Hernandez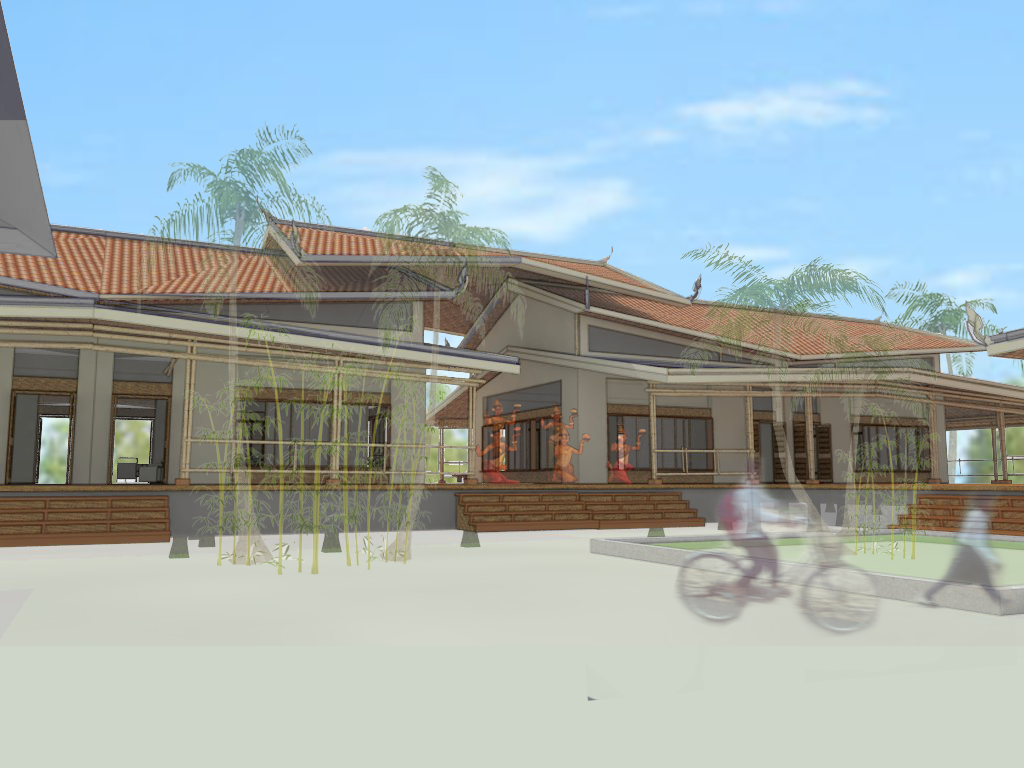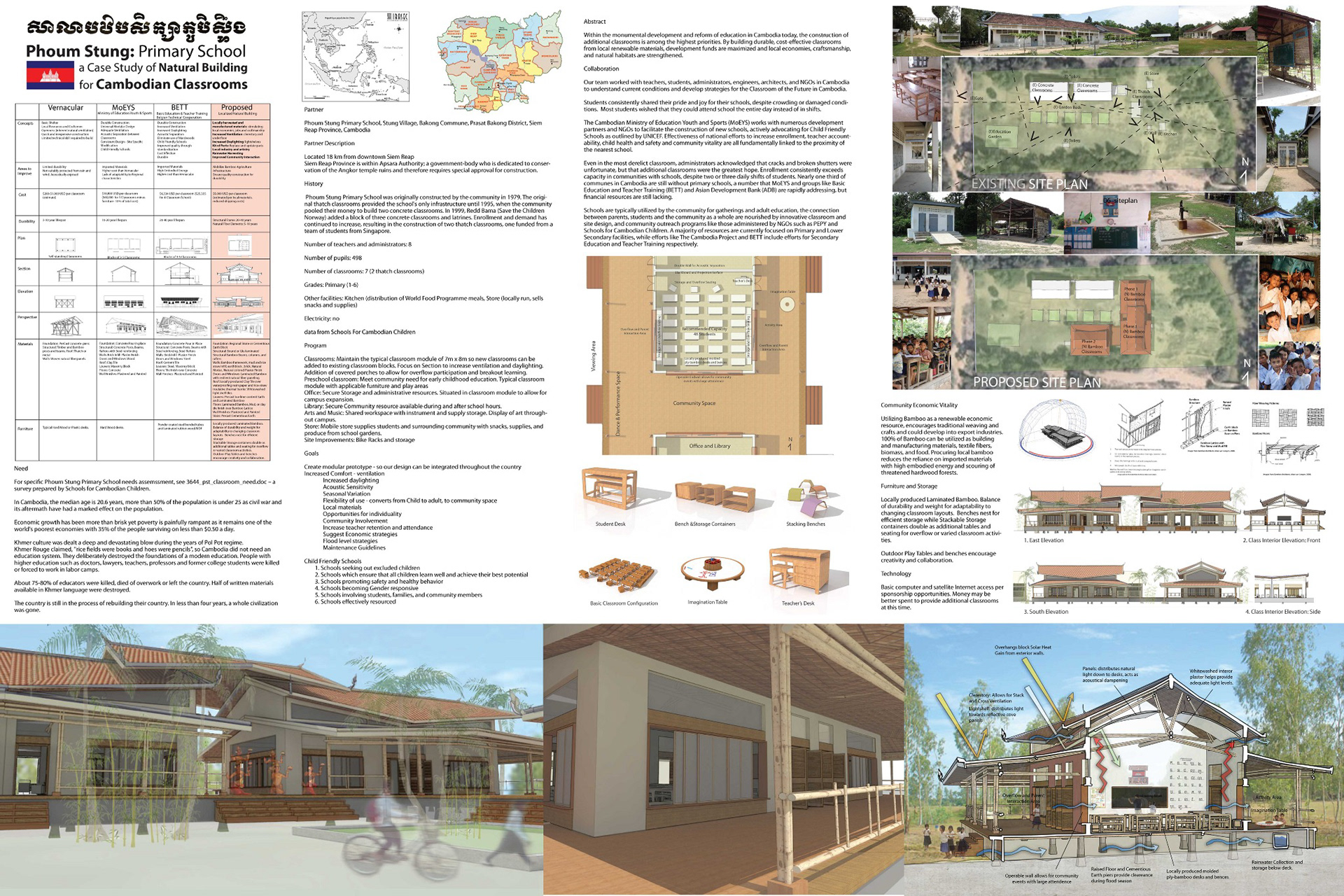 Abstract
Within the monumental development and reform of education in Cambodia today, the construction of additional classrooms is among the highest priorities. By building durable, cost-effective classrooms from local renewable materials, development funds are maximized and local economies, craftsmanship, and natural habitats are strengthened.
Collaboration
Our team worked with teachers, students, administrators, engineers, architects, and NGOs in Cambodia to understand current conditions and develop strategies for the Classroom of the Future in Cambodia.  
Students consistently shared their pride and joy for their schools, despite the crowding or damaged condition.  Many students wished that they could attend school the entire day instead of in shifts. 
The Cambodian Ministry of Education Youth and Sports (MoEYS) works with numerous development partners and NGOs to facilitate the construction of new schools, actively advocating for Child Friendly Schools as outlined by UNICEF. Effectiveness of national efforts to increase enrollment, teacher accountability, child health and safety and community vitality are all fundamentally linked to the proximity of the nearest school.
Even in the most derelict classroom, administrators acknowledged that cracks and broken shutters were unfortunate, but that additional classrooms were the greatest hope. Enrollment consistently exceeds capacity in communities with schools, despite two or three daily shifts of students. Nearly one third of communes in Cambodia are still without primary schools, a number that MoEYS and groups like Basic Education and Teacher Training (BETT) and Asian Development Bank (ADB) are rapidly addressing, but resources are still lacking.
Schools are typically utilized by the community for gatherings and adult education, the connection between parents, students and the community as a whole are nourished by innovative classroom and site design, and community outreach programs like those administered by NGOs such as PEPY and Schools for Cambodian Children. A majority of resources are currently focused on Primary and Lower Secondary facilities, while efforts like BETT include efforts for Secondary Education and Teacher Training.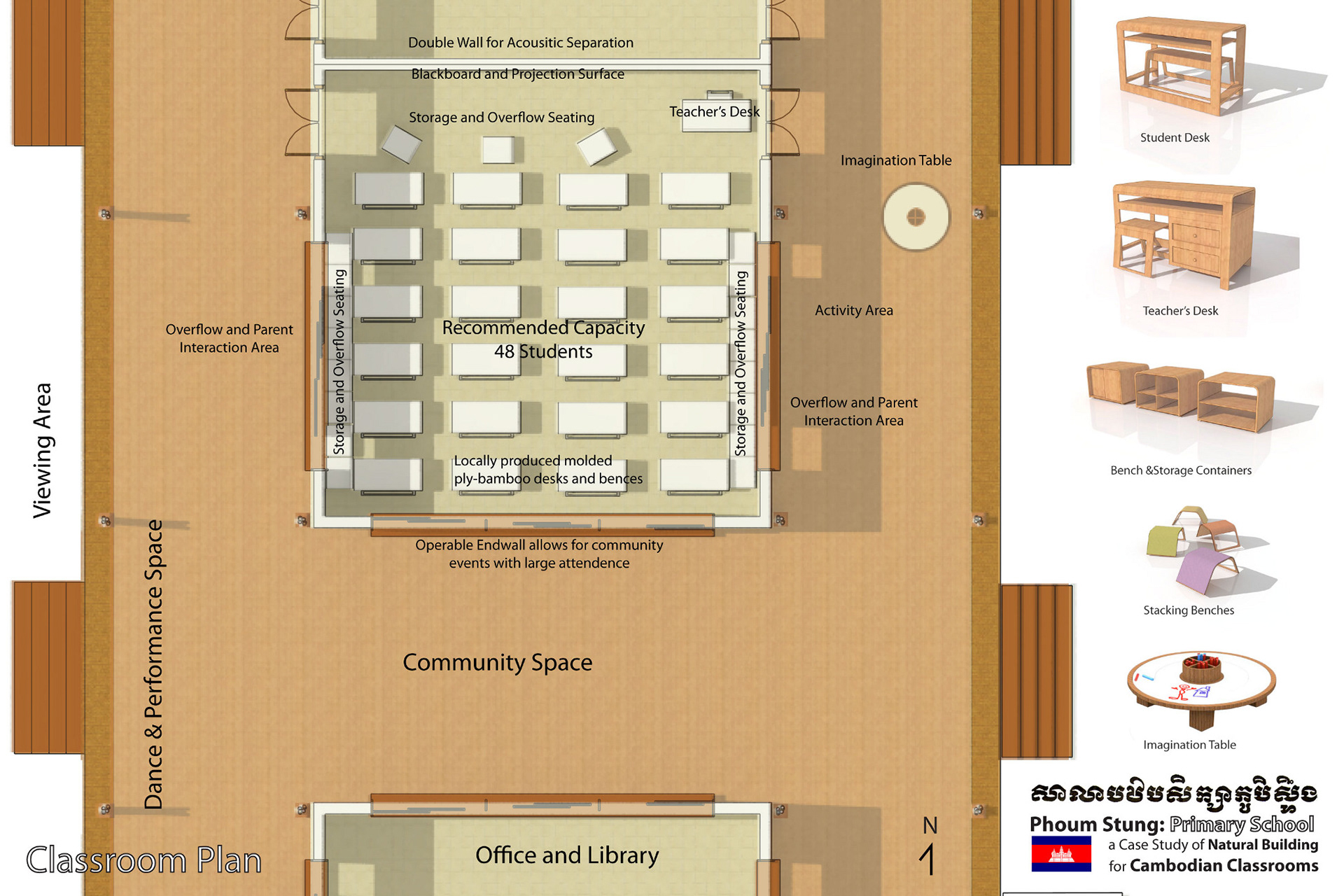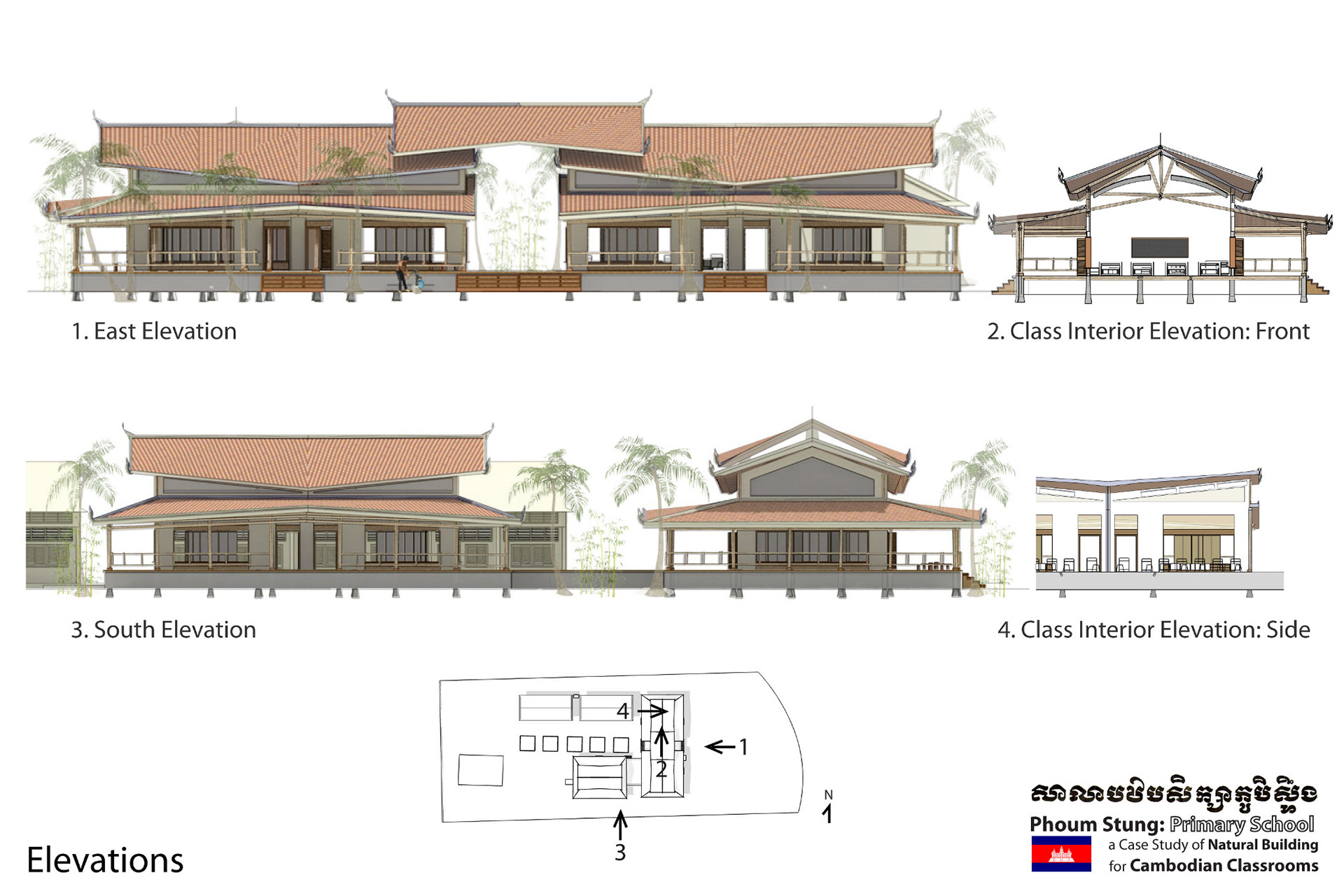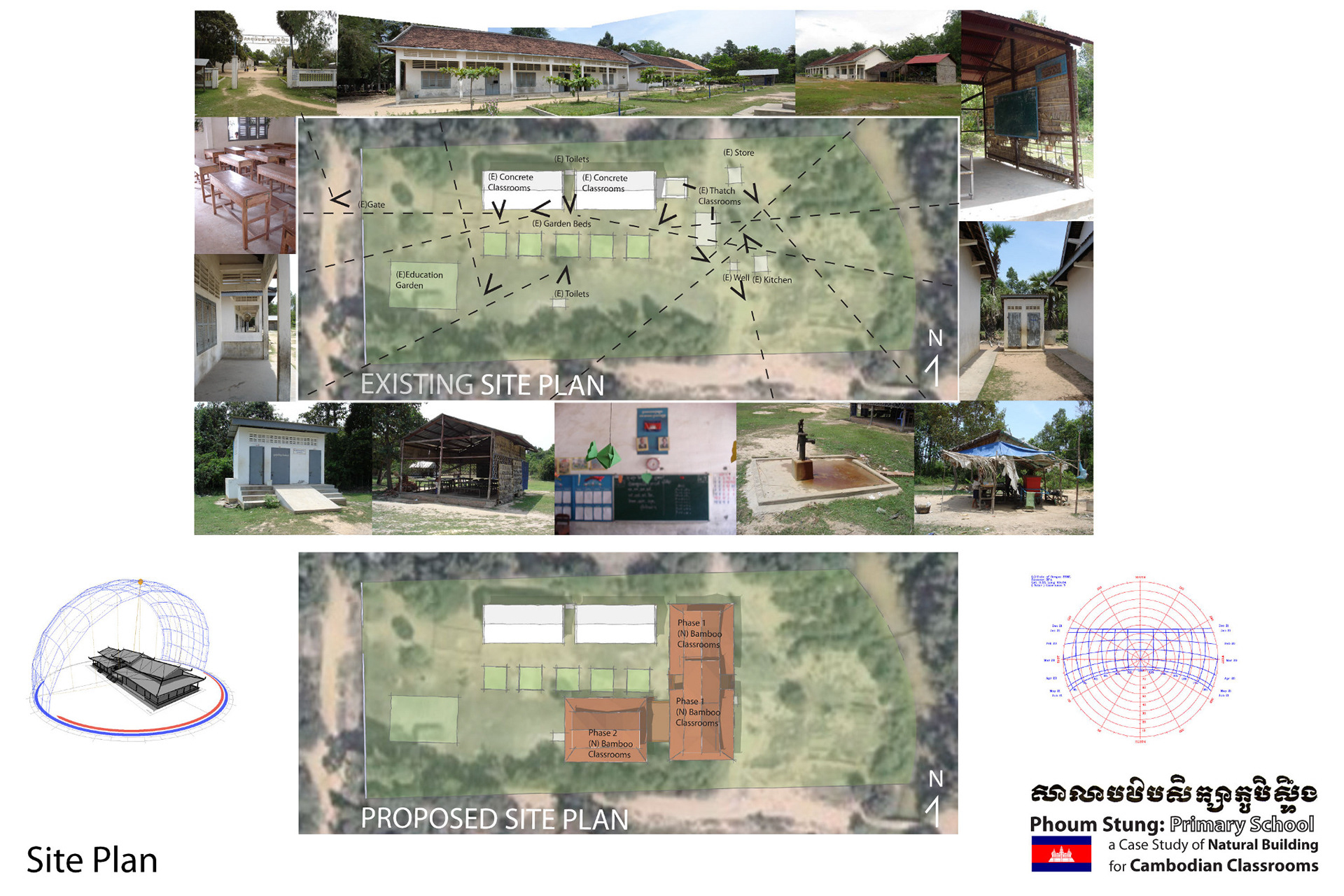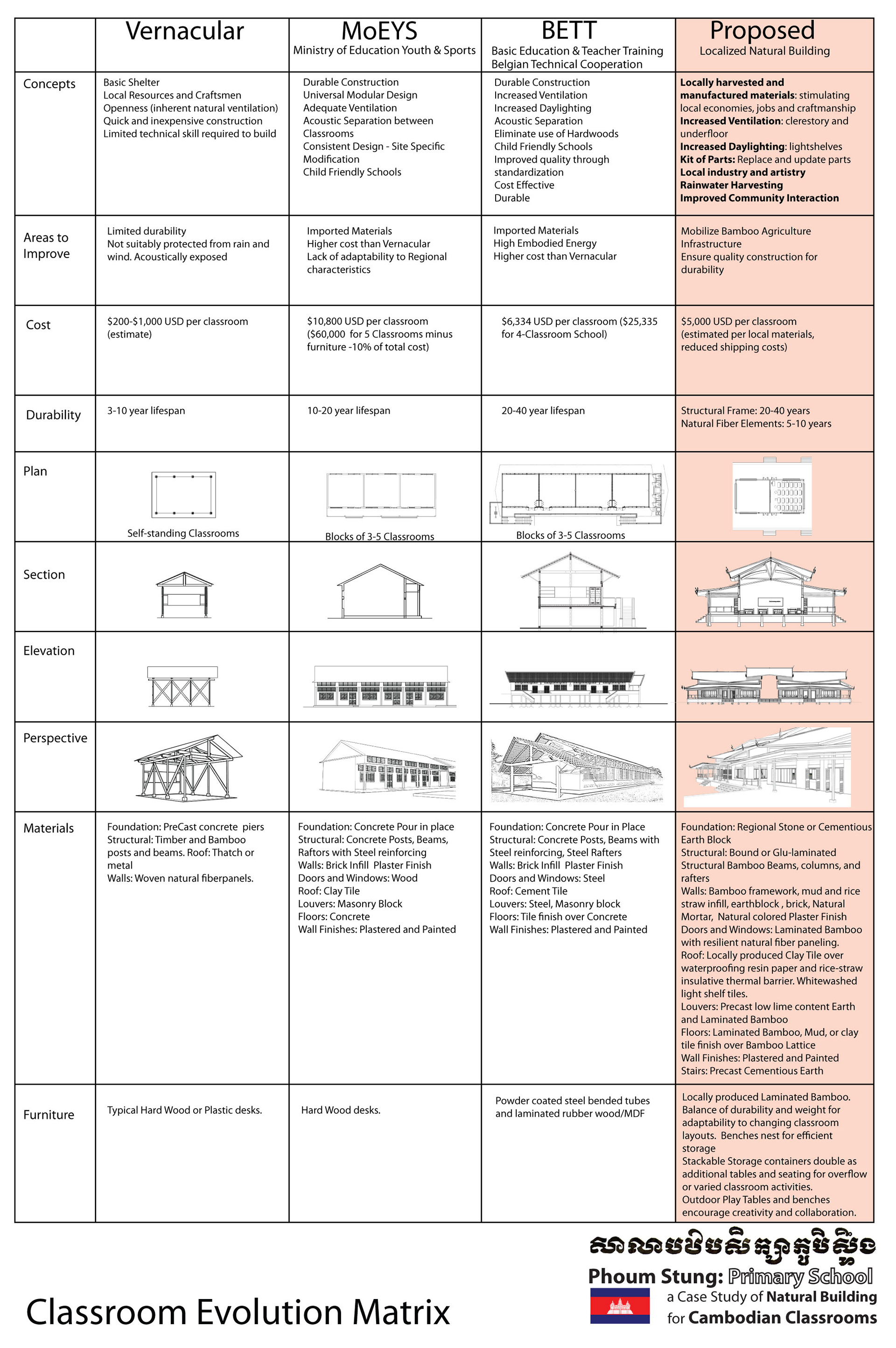 Partner:
Phoum Stung Primary School, Stung Village, Bakong Commune, Prasat Bakong District, Siem Reap Province, Cambodia
Partner Description:
Located 18 km from downtown Siem Reap 
Siem Reap Province is within Apsara Authority, a government-body who is dedicated to conservation of the Angkor temple ruins and therefore requires special approval for construction.
History:
 Phoum Stung Primary School was originally constructed by the community in 1979. The original thatch classrooms provided the school's only infrastructure until 1995, when the community pooled their money to build two concrete classrooms. In 1999, Redd Bama (Save the Children Norway) added a block of three concrete classrooms and latrines. Enrollment and demand has continued to increase, resulting in the construction of two thatch classrooms, one funded from a team of students from Singapore.
Program:
Classrooms: 
Maintain the typical classroom module of 7m x 8m so new classrooms could potentially be added to existing classroom blocks. Focus on Section to increase ventilation and daylighting. Addition of covered porches to allow for overflow participation and breakout learning. 
Preschool classroom, Office, Secure Storage and administrative resources.
Situated in classroom module to allow for campus expansion. 
Library, Store. 
Materials and Construction:


Local Natural materials, Kit of Parts
allowing for durable structure and easily updated panels and screens.
Foundation:
Regional Stone or Cementious Earth Block
Structural:
Bound or Glu-laminated Structural Bamboo Beams, columns, and rafters 
Walls:
Bamboo framework, mud and rice straw infill, earthblock , brick, Natural Mortar,  Natural colored Plaster Finish
Doors and Windows:
Laminated Bamboo with resilient natural fiber paneling.
Roof:
Locally produced Clay Tile over waterproofing resin paper and rice-straw insulative thermal barrier. Whitewashed light shelf tiles.
Louvers:
Precast low lime content Earth and Laminated Bamboo
Floors:
Mud or tile finish over Bamboo Lattice 
Wall Finishes:
Plastered and Painted
Community Ecomomic Vitality:
Utilizing Bamboo as a renewable economic resource, encouraging traditional weaving and crafts. Develop into export potential. 100% of Bamboo can be utilized as building and manufacturing materials, textile fibers, biomass, and food. Reduces the reliance on imported materials and threatened hardwood forests.
Furniture and Storage 
Locally produced Laminated Bamboo. Balance of durability and weight for adaptability to changing classroom layouts.  Benches nest for efficient storage
Stackable Storage containers double as additional tables and seating for overflow or varied classroom activities. Outdoor Play Tables and benches encourage creativity and collaboration.